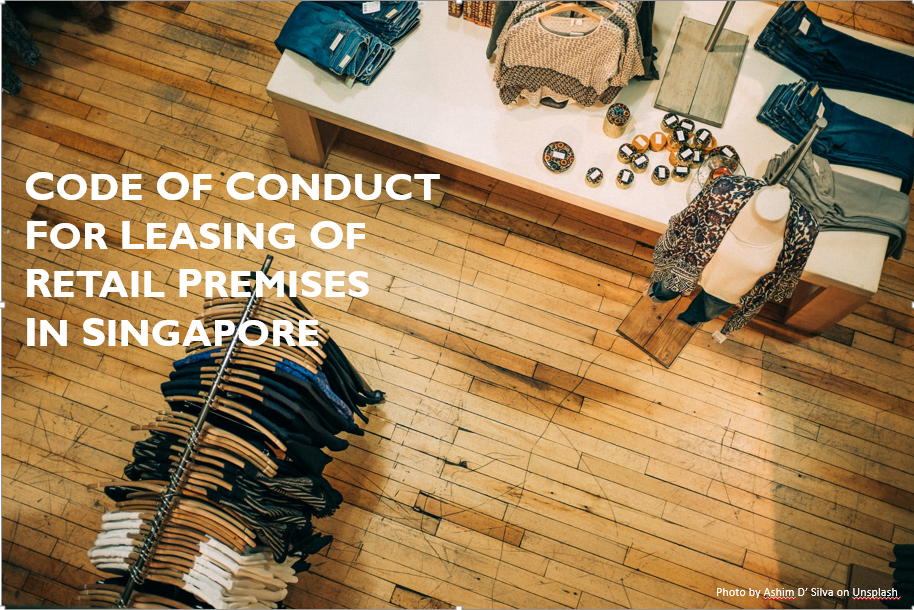 Code of Conduct for Leasing of Retail Premises in Singapore
Introduction
1. In June 2020, a Fair Tenancy Pro Tem Committee comprising business leaders from major landlords was convened to develop a code of conduct setting out clear leasing guidelines and negotiation principles for landlords and tenants in Singapore. The overriding aim was to address long-standing points of contention between landlords and tenants, particularly against the backdrop of the Covid-19 pandemic.
2. As a result, the Code of Conduct for Leasing of Retail Premises ("Code of Conduct") was introduced on 1 June 2021, which key objectives are briefly as follows:
(a) To provide guidance to parties to enable a fair and balanced position in lease negotiations; and
(b) To provide a governance framework to ensure compliance by parties and provide an accessible dispute resolution framework for parties.
Legal Ambit
3. The Code of Conduct applies to all qualifying retail premises in Singapore, which are: (hereinafter referred to as "QRP"):
(a) premises held under a lease agreement entered into on or after 1 June 2021 with a tenure of more than one year; and
(b) premises permitted to be used by the Urban Redevelopment Authority (URA) and other relevant authorities for any of the following uses:
(i) Food and beverage premises including restaurants, bars, pubs and night clubs;
(ii) Shops (retail and services);
(iii) Medical / Dental / Aesthetic clinics;
(iv) Pet shops and pet boarding premises;
(v) Commercial schools;
(vi) Sports and recreation premises; and
(vii) Entertainment premises.
4. The Code of Conduct is currently not legally binding. However, the Government has indicated that it will be working closely with the industry on the details of potential legislation. In this regard, new laws ensuring compliance with the Code of Conduct are likely to follow.
5. At this point, the Government and all Government landlords have declared that they will adopt the code from 1 June 2021. Members of the Fair Tenancy Pro Tem Committee, including CapitaLand and Frasers Property Retail, have also publicly pledged to abide by the code.
6. As these entities comprise a significant proportion of landlords and tenants in Singapore, it is believed that their collective commitment to the Code of Conduct would have a strong positive effect on the industry.
Key Terms and Dispute Resolution
7. The Code of Conduct consists of 4 main parts (elaborated on below in turn):
(a) Conduct and Spirit of Negotiations;
(b) Leasing Principles for Key Tenancy Terms;
(c) Data Transparency; and
(d) Dispute Resolution and Enforcement.
Part A – Conduct and Spirit of Negotiations
8. Generally, the Code of Conduct requires all parties to negotiate in good faith, which includes acting honestly and fairly having regard to the legitimate interests of the other party and observing accepted or reasonable commercial standards of fair dealing.
Part B – Leasing Principles for Key Tenancy Terms
9. The Code of Conduct sets out 11 key leasing principles for landlords and tenants, which are briefly as follows:
(a) Exclusivity: Generally disallows exclusivity clauses in lease agreements.
(b) Costs to prepare lease agreement and third party costs: Sets out general principles on costs (i.e. parties must be transparent, legitimate and justifiable, and there must be no profiteering), and further sets out specific rules in relation to Points-of-Sales system, Costs to Prepare the Lease Agreement, Fees for Tenant-Initiated Requests and Third Party Costs.
(c) Advertising and promotion and service charges: Allows landlords to adjust advertising and promotion charges, as long as the overall gross rent payable does not increase.
(d) Pre-termination by landlord for redevelopment: Sets out conditions for landlords to pre-terminate leases for substantial redevelopment, and sets out rules governing such pre-termination.
(e) Sales performance: Generally disallows clauses allowing a landlord to terminate a lease if a specified sales target is not met by a tenant.
(f) Material Adverse Changes: Encourages re-negotiation of leases where a tenant is unable to perform typical business activity due to unforeseen events.
(g) Pre-termination by tenants: Sets out the exceptional conditions in which a tenant may pre-terminate a lease.
(h) Security deposits: Sets out the limit to the amount of security deposit and when and how it is paid and retained.
(i) Floor Area Alterations: Requires landlords to provide a certificate from the registered surveyor confirming the surveyed area of the premises and how the rent and security deposit amounts should be adjusted if the surveyed area deviates from the floor area specified in the lease agreement.
(j) Building maintenance: Sets out the landlord's duty to maintain the building.
(k) Rental structure: Requires rental formulae to be based on a single rental computation and not based on the higher of two alternative computations.
Part C – Data Transparency
10. The Code of Conduct requires landlords which collect sales data from tenants as part of the GTO Rent Structure to share sales data metrics by trade category (i.e. total monthly sales and total floor area) on a one-on-one basis before the signing of the lease agreement. For existing tenants, landlords must share such sales data on a bi-annual basis.
11. Where there are confidentiality clauses in lease agreements, it must be drafted such that it has a mutual and reciprocal effect on both landlord and tenant.
Part D – Dispute Resolution and Enforcement
12. As mentioned above, the Code of Conduct is not yet legally binding.
13. However, a Fair Tenancy Industry Committee ("FTIC"), compromising landlord and tenant representatives, has been set up for dispute resolution and enforcement purposes.
14. In accordance with the Code of Conduct, landlords are required to complete a checklist set out in the Code of Conduct to clearly indicate any deviation from the mandatory requirements of the Code of Conduct, alongside the first draft of the lease agreement.
15. In the event of non-compliance by either landlord or tenant during lease negotiations (such as a deviation not mutually agreed upon), the matter can be referred to the FTIC. FTIC will provide advice regarding the code of conduct and keep track of instances of non-compliance, including naming and shaming the party for acting in a manner against the Code of Conduct.
16. In the event of non-compliance after the signing of the Lease Agreement, parties also would have recourse to the Singapore Mediation Centre for resolution of the dispute.
Conclusion
17. In summary, the Code of Conduct provides a welcome change to the leasing landscape in Singapore, particularly in equalising the bargaining power between landlords and tenants.
18. If you require legal advice on tenancy-related matters, please do not hesitate to contact us at FORTIS LAW CORPORATION.
Written by: Patrick Tan and Yip Jian Yang
Patrick Tan TEP
Founder and CEO
+65 66454500
Patrick.tan@fortislaw.com.sg
Yip Jian Yang
Associate
+65 66454516
Jianyang.yip@fortislaw.com.sg
Download article here.